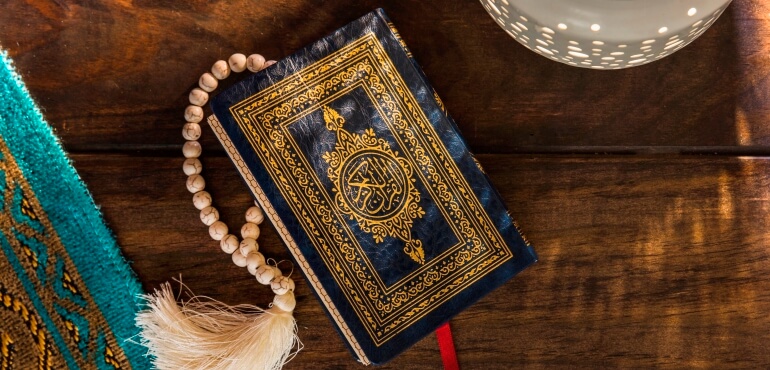 ! Note: You can take Free Trial Lesson for this course with no obligations.
Learn Tajweed Online
Do you know how to recite Quranic Ayahs with proper Tajweed by following its rules? It is extremely important to read the Quran with tajweed because it is must for you to understand Arabic in a way in which it is supposed to be read.
This course of learning tajweed online has been especially designed for all the students in their beginning and learning period because Arabic is pronounced perfectly with Tajweed only. Normal people won't be able to comprehend the meaning of Arabic terms without knowing its correct tajweed.
Therefore, our beginner's session is designed for both males and females so that they do not have to step out of their homes and search for some best teachers to learn Quran Majeed at their home. We have designed this course, especially for you, to improve the Holy Quran's recitation and read. Our teachers will be there to guide you and correct you whenever you go off the path.
Our courses are not biased according to age or gender. Therefore, both adults and younger ones can come and seek knowledge from our experienced and skilled Quran tutors at SAIOI. We also offer a trial class for all our potential students who would like to know our teaching methods and the topics we would cover. You can take one free trial class and check everything to confirm and satisfy yourself. After that, you can register yourself as a permanent or regular student and then take daily classes according to your schedule and availability.
Our course will help you to learn about the deep roots of Islam that are further based on the laws decided by all mighty Allah. We all know that Quran is available in the Arabic Language as an original text, and Allah has used this language to send his message to Muhammad SAW PBUH. In case if you do not understand the Arabic Language, you can take up a beginner's course for this language too because Arabic is a complex language, and it might cause problems for you during learning Tajweed and while pronouncing Arabic terms.
People who can read the Arabic language tend to learn tajweed pronunciation in a better and quicker manner. This course has been specifically designed to educate students about Tajweed's theoretical and practical practice while reciting Quran Majeed. We also offer various daily tasks, exercises, and assignments so that our students do not miss the track and can get along quickly and easily.
Tajweed includes the holy book Quran's major properties that include the timing of syllables, dialects and accents, the delivery of several words, and much more. When you learn Tajweed, your connection to Allah grows stronger because now you have Allah's mercy, protection, and guidance. Therefore, it can be said that Tajweed can be learned to spring in a strong relation between Allah and man.
For beginners, Tajweed classes focus entirely upon the proper recitation of Noorani Qaida and beginning chapters of Islam. It allows them to study several aspects of Quranic studies, and they now know how to pronounce verses from any part of their mouth properly. Learning Tajweed will eventually help you in becoming a much better Muslim than before. You can now see if there are any other complexities in the text or not. These skills will help you to become a tutor of a Quran student one day. Students who do not have any prior knowledge about the Quran's basic study may have to struggle with the correct pronunciation later
Once this course ends, you'll learn all the main tajweed rules that will assist you in teaching and understanding the Quran in a much better way.